I am Angela Moore
Expert U.S. Immigration Lawyer
I help immigrants obtain legal status without leaving the United States
I have helped many families
Obtain legal status without leaving the USA
You could adjust your status without leaving the U.S. and obtain a work permit, a travel permit, and social security in 6 to 8 months; and residency in 2.5 years if you meet any of these conditions:
You are married to or separated from a U.S. citizen or legal permanent resident
You have been divorced or widowed less than 2 years ago from a U.S. citizen or lawful permanent resident.
You have a U.S. citizen child who is 21 years old or older
You are under 21 years old, unmarried, and the child of a U.S. citizen or legal permanent resident
What other services do we offer?
These are some of the services we offer. Click on the + button to find out which process you could apply for.
ADJUSTMENT OF STATUS
Adjustment of status is the process that you can use to apply for lawful permanent resident status (also known as applying for a Green Card) when you are present in the United States. This means that you may get a Green Card without having to return to your home country to complete visa processing.
JUVENILE VISA (SIJ)
If you are in the United States and need the protection of a juvenile court because you have been abused, abandoned or neglected by a parent, you may be eligible for Special Immigrant Juvenile (SIJ) classification.
U VISA CERTIFICATION
Have you been a victim of a crime within the United States where your life was in danger and you have obtained a police report? You may be able to apply for a U Visa, but you must first certify the police report. 
VISA U
Have you been a victim of a crime within the United States where your life was in danger and you have obtained a police report? You could apply for a U Visa. If your application is accepted you would get a work permit and could eventually get a Green Card.
HUMANITARIAN PAROLE
Does your American child have a serious illness? You may be able to apply for a humanitarian permit with which you could obtain a work permit.
Suspension of conditions
The I-751 Petition is a process where the removal of Green Card conditions is requested. This is necessary for individuals who have been granted conditional permanent residency based on their marriage to a U.S. citizen or lawful permanent resident.
Green Card Renewal
If you are a lawful permanent resident in the United States and your green card has expired or will expire in the next six months, you need to renew it. If your green card has already expired, you may need to take additional steps to maintain your lawful permanent resident status.
Travel Permit
Advance Parole is a document that allows certain individuals who are in the process of adjusting their immigration status in the United States to travel abroad and re-enter the United States. Those who have DACA or TPS may apply for Advance Parole.
DACA Renewal
We can help you renew your DACA if you have not departed the United States on or after Aug. 15, 2012, without advance parole, have resided in the United States since you filed your most recent DACA petition, and have not been convicted of a felony.
We have helped many families in
Mexico, El Salvador, Guatemala, Honduras, Nicaragua, Colombia, Cuba and more to remain united and adjust their status in the United States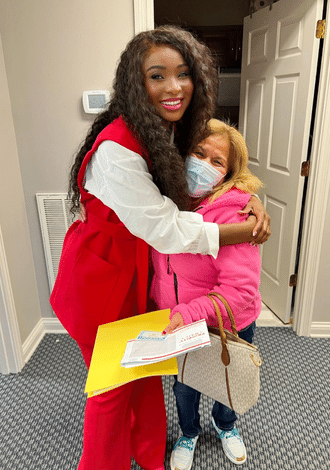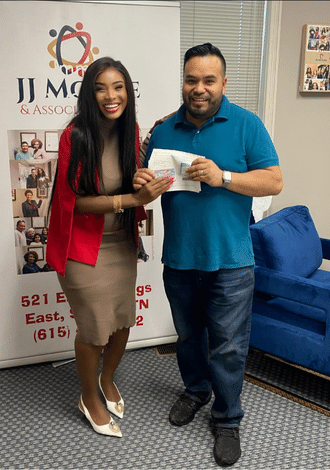 What our clients think of us
I would lack space to tell people how professional are all who work with lawyer Angela. She offers sure and fast services, without fraud 100 x 💯 sure, the facilities very appropriate to feel at ease, thank you, thank you will not regret contacting them.

I give her 5 stars she is the only lawyer who could help me in my case ,previously I went to look at more lawyers and they all told me that they could not help me in my case that is why I thank the lawyer JJ Moore and her team for their efficiency and dedication 👏👏👏👏 thank you for your work.

I have recommended JJ Moore & Associates on many occasions and not one client has been disappointed. They're highly professional and deliver on target. In my experience with JJ Moore they have unravelled complex, out of time and formerly refused immigration applications. Many a client have walked away with great satisfaction. I will highly recommend JJ Moore for all your immigration and other legal matters.

She's amazing, she was there from the beginning to the end in my case, never lies for money, and you can believe she will do all in her power to make your case happen, too.

Angela is one of a kind. She brings energy and enthusiasm to her work, in addition to experience and professionalism. She is a lawyer who truly loves what she does and genuinely cares about her clients and the outcomes of her cases. I would not hesitate to recommend her services to anyone seeking representation in an immigration or family matter!

My wife and I filed to remove the conditions from my two-year green card but we started having problems after that. Immigration wanted to deny my case. I spoke to many lawyers but Ms. Moore stood out as the best and I was right. She helped me win my permanent residency card by fighting for me every step of the way. Highly recommended.

If you are looking for an immigration attorney around the Nashville metro area and Tennessee as whole, then look no wherw else than JJMOORE AND Associates. Attorney Moore is highly professional and very responsive. She is all about getting a positive results for her clients.

She made my otherwise complicated case, so simple. Very professional and awesome attorney. I couldn't have asked for a better attorney. I would definitely recommend her to anyone who needs a very good immigration attorney.

About me
My name is Angela Moore, and like you, I am also an immigrant here in the United States.
After graduating from Ghana Law School as a lawyer, I immigrated to the United States to pursue my Master of Laws degree as a student at the University of Georgia.
In 2013, I founded JJ Moore & Associates PLLC. I specialize 100% in immigration services. I am not only a trained and skilled attorney who is capable of giving you the best advice, but I am also an immigrant who has experienced firsthand many of the frustrations and triumphs associated with the US immigration law system.
When it comes to immigration law, sometimes people really have to walk a mile in those shoes to actually understand it. I have walked miles in those shoes and I am still willing to walk beside you and support you as you embark on that often confusing and scary journey to acquiring and maintaining legal status.